Corporate Information
Corporate Information
Origin of the company name: Rheology
The "Rheon" in Rheon Automatic Machinery is derived from the word "rheology" (flow science). Rheology is the science of elucidating the flow of a material based on its viscous and elastic properties. Leveraging applied engineering based on rheology, we have been creating automated systems that skillfully manipulate viscosity and elasticity to shape food products without damaging their delicate taste and texture. As a pioneer in food production machinery, we have remained committed to enriching people's dietary life, including with the successful automated production of ethnic foods from around the world that had been in decline.
Rheon by the Numbers
This information is current as of March 31, 2022.
Shipments
To date, Rheon's food processing and manufacturing machinery has been shipped to 127 countries and regions worldwide. We are helping to develop rich food cultures around the world in a number of countries and regions, whether that entails creating local ethnic cuisine or completely new food products that have never existed before.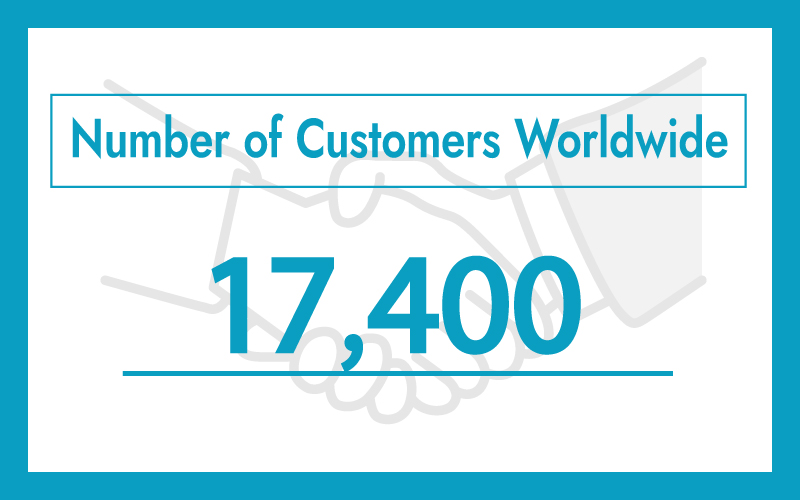 Number of Customers Worldwide
We currently have 9,000 customers in Japan, 1,900 in the U.S.A., 2,700 in Europe, and 3,800 in Asia. We are doing business with 17,400 companies worldwide. We are making progress with our corporate philosophy of achieving a global market.
Number of Employees
As of March 31, 2022, we have 675 employees. To take advantage of the skills of different individuals, we assign them to departments that suit their abilities, such as machine development, software research, sales, plant design, and management.
Domestic/International Sales Ratios
These are our domestic and international sales ratios for our food production machinery. The results by region are: 52% Japan, 14% North and South America, 20% Europe, and 14% Asia.
Number of Patents Held

Rheon has been granted 532 patents in Japan and 2,674 patents abroad, for a total of 3,206 patents.
We currently hold 450 patents.
We make sure to appropriately manage the new technologies generated through our daily research and development by treating them as our own property.